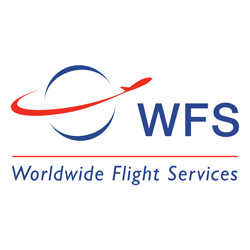 Ramp Agents
San Antonio, TX
401K / Retirement plan, Dental Insurance, Health Insurance, Life Insurance, Paid personal time, Paid vacation, Vision Insurance
Worldwide Flight Services is one of the world's leading ground-handling organizations, providing high-quality cargo, passenger, premium, ramp, baggage and technical services across a network spanning more than 198 locations in over 23 countries on five continents.

Currently we are looking to hire full-time and part-time Ramp Agents in the San Antonio area.

Hours of operation:
• AM SHIFT - 4AM-7AM
• PM SHIFT - 7PM-10PM
** Each shift is until finished

Job Purpose:
Provides ground servicing of aircraft by preparing for aircraft arrival and departure; placing aircraft; loading and unloading cargo; maintaining safe and secure environment.

High school diploma preferred
No experience necessary. We provide training.
• Must posses a valid drivers license and be able to pass a background and drug screening.
Duties:
• Prepares for shift activities by reviewing flight schedules and departures; inspecting and coordinating use of equipment.
• Prepares for aircraft arrival by readying equipment, such as, tow vehicles, wheel chocks, and beltloaders; taking positions; removing debris from tarmac.
• Places aircraft by guiding pilots to move and stop using hand and electronic signals.
• Secures aircraft by placing wheel chocks; guiding jetbridge or placing stair ramps to aircraft door; opening and latching exit doors; tying propellers; connecting communications and power.
• Prepares aircraft for departure by loading cargo that is in ULD's onto the aircraft, or loose cargo into the Belly of the aircraft; removing wheel chocks and other securing, communications; sorting and scanning cargo and loading into ULD's; loading or unloading cargo from small feeder aircrafts; deicing wings; guiding pilots to leave area using hand and electronic signals; operating tow vehicles to push back aircraft.
• Documents aircraft loads and actions by maintaining logs; completing reports.
• Maintains safe, secure, and healthy work environment by following organization, hazardous materials, and environmental standards, and legal regulations; noting unsecured conditions; wearing personal protective equipment; cleaning work areas.
• Updates job knowledge by participating in educational opportunities.
• Accomplishes organization goals by accepting ownership for accomplishing new and different requests; exploring opportunities to add value to job accomplishments.

Basic Safety, Lifting, Scheduling, Equipment Maintenance, Planning, Documentation Skills, Reporting Skills, Informing Others, Mechanical Inspection Tools, OSHA Compliance.
19484